From the mid-1700s to the early 1900s, the Albano-Ariccia-Lago di Nemi area was a must-see for all travelers, literate artists and painters, men and women who visited Italy (from Charles-Louis Montesquieu to Wolfgang Goethe, from Cornelia Knight to Henry James, from Claude Lorrain to Claude Joseph Vernet, from Thomas Jones to William Turner)
With the help of some friends, we have started a Mini Grand Tour project by collecting materials related to the experiences of of these earlier travelers and holding seminars about them. This published material is available in Italian and English is accessible, free of charge and in ebook and pdf formats, at the following links:
Il Grand Tour nei Colli Albani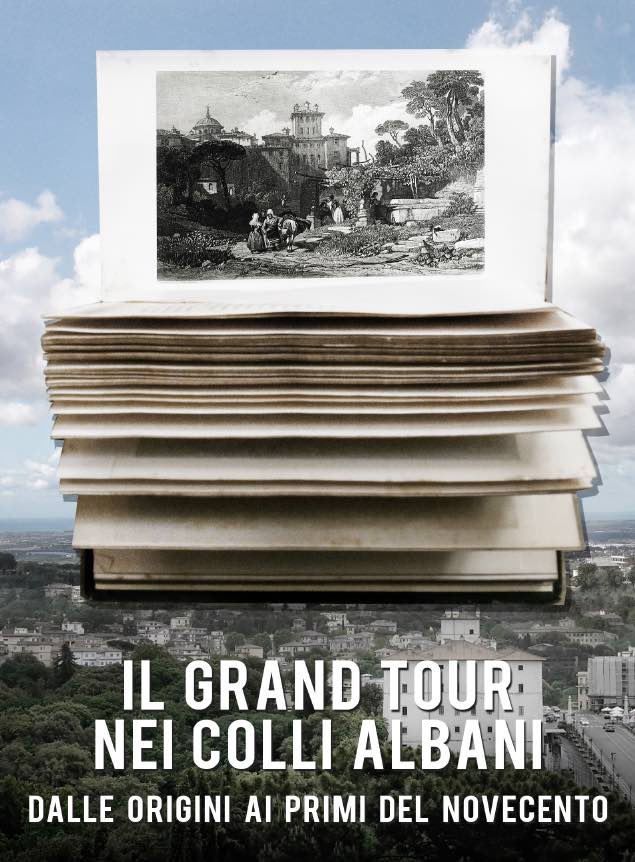 The Grand Tour in the Colli Albani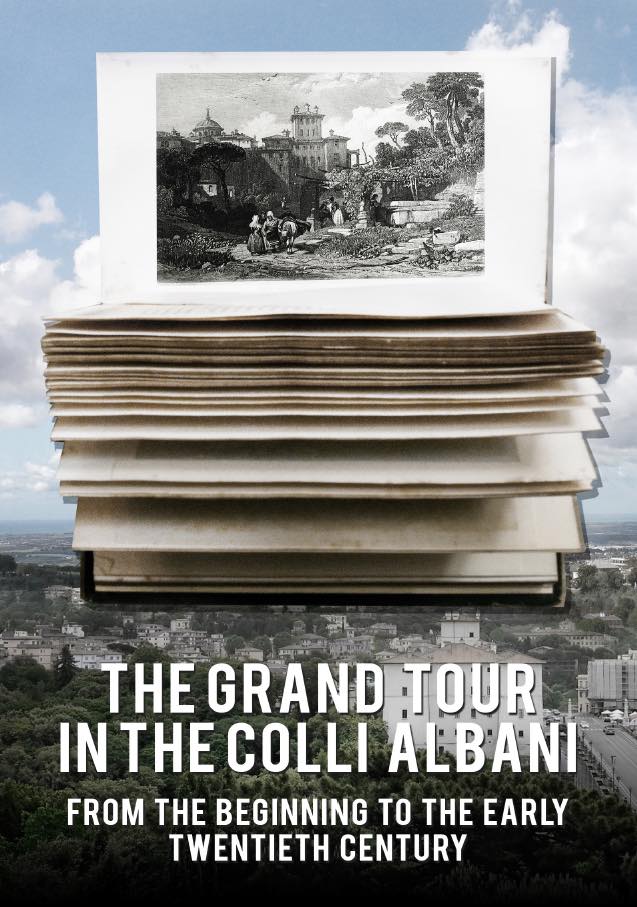 Esempio di programma
Venerdì
11.00-13.00 Arrivo tarda mattinata:
13.00-14.00 Pranzo al Villino
15.00-16.30 Visita del Villino Volterra e del giardino. Visione del documentario: l'eredità di Vito Volterra
17.00 -19.30 Workshop di cucina con Flavia Pantaleo e preparazione della cena
19.30-20.30 Cena
21.00- 22.00 Presentazione di testi e immagini del Grand Tour in preparazione della visita al lago di Nemi
Sabato
8.00-9.00 Prima Colazione al Villino
Tour 1 (curato da Castelli Romani Green Tour):
9.30-12.30 Lago di Nemi, Bosco Sacro, Museo delle Navi, Palazzo e Parco Cesarini Sforza a Genzano
13.00- 14.30 Pranzo leggero con vista lago
15.00-16.30 Albano: teatro romano e cisterne
17.00-19.30 Workshop di cucina con Flavia Pantaleo e preparazione della cena
19.30-20.30 Cena
21.00-22.00 Presentazione di testi e immagini del Grand Tour in preparazione della visita ad Ariccia e Palazzo Chigi (con musica?)
Domenica
8.00-9.00 Prima Colazione al Villino
Tour 2 (curato da Palazzo Chigi)
9.30 – 12.30 Ariccia, Palazzo e Parco Chigi, Locanda Martorelli, Piazza e Chiesa
13.00- 14.30 Pranzo al Villino
Pomeriggio: partenza.
Alcuni dei trasferimenti previsti nella zona potranno svolgersi, a scelta dei partecipanti, in minibus o a piedi.
In the first contribution, Marisa Dalai, art historian and professor emeritus of the University of Rome, Sapienza, introduces the Grand Tour in Italy, describing the changes that took place over the centuries. She focuses on the literary and visual sources that allow us to reconstruct their characteristics, from travel diaries to guides and maps, with particular reference to the Colli Albani area.
The second contribution, by Sara Scarselletta, archaeologist and tour guide, describes destinations, motivations and methods of travel, especially the means of transport used by travelers and their transformation over time. The attention paid by travelers to the habits and customs of the local population is emphasized.
The contribution of M. Vittoria Giuliani, environmental psychologist and researcher, currently retired, at the Institute of Cognitive Sciences and Technologies, highlights the differences in the assessment of travel, landscape, villages and products of the Colli Albani. It links the different views not only to historical changes but also to the attitudes, mentality and cultural background of the authors.
The next contribution, by Roberta Londi, English scholar and coordinator of the Auburn University Program in Italy for Interlinea Group, explores the figures of English-speaking writers who visited the Colli Albani area from the Romantic period to the First World War.
The latest contribution, curated by Francesco Petrucci, architect and curator of Palazzo Chigi, focuses on the paintings made by various artists in the Colli Albani area. Particular attention is paid to the "en plein air" painting that developed around Ariccia and to the description of the area by the artists themselves.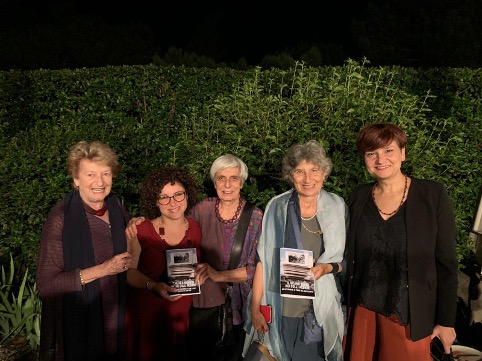 From left to right: Marisa Dalai, Sara Scarselletta, Vittoria Giuliani, Virginia Volterra, Roberta Londi
The publication of this volume has given us in recent years the opportunity to lead our friends and guests of the Villino to retrace the roads traveled by the Grand Tourists, admiring the views that they admirably portrayed, and rereading together some of their more significant descriptions. 
We hope that future visitors will also try similar experiences and appreciate the past by comparing it with what the present still offers us.
Meeting facilities at the Villino are available to offer in-depth seminars on these topics held by some of the authors and may be focused on specific topics such as: landscapes and inhabitants, archaeological remains, women travelers.
For more information:
info@villinovolterra.it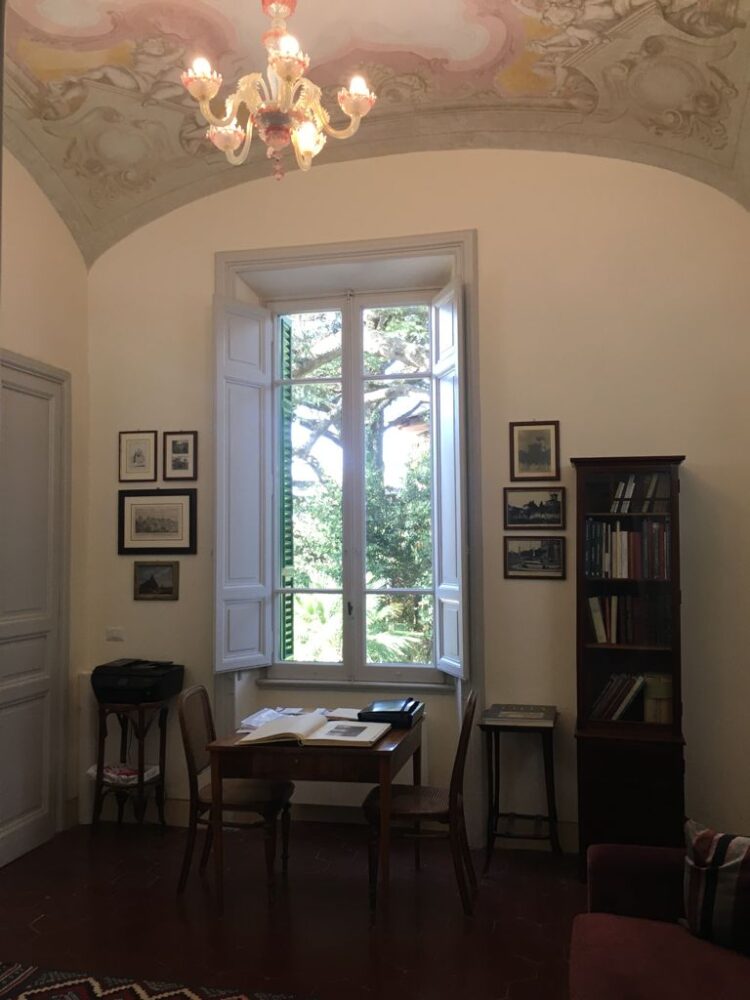 TEAM
Il progetto è stato ideato con un gruppo di amici in collaborazione con:
–       Palazzo Chigi
–       Associazione Castelli Romani Green Tour
–       Elena Alleva, paesaggista;
–       Caterina Cardona, storica dell'arte;
–       Marisa Dalai, storica dell'arte;
–       Franco Di Felice, cultore di storia locale;
–       M. Vittoria Giuliani, psicologa ambientale;
–       Monica Incisa, artista;
–       Carrol Mortera, anglista;
–       Francesco Petrucci, architetto, conservatore di Palazzo Chigi;
–       Gianna Petrucci, fotografa;
–       Iole Pippo, francesista;
–       Roberta Londi, anglista;
–       Virginio Melaranci, architetto;
–       Sara Scarselletta, archeologa e guida turistica;
–       Katrin Tenenbaum, filosofa e germanista;
–       Roberta Tortorici, romanista e francesista;
–       Anna Valeria Visalberghi, slavista;
–       Virginia Volterra, psicolinguista e organizzatrice.
A seconda della lingua prescelta dal gruppo di visitatori, più persone verranno coinvolte nell'accoglienza e conduzione del gruppo.